Zoopla
Brexit uncertainty hit the housing market in 2018, but northern regions outperformed southern ones.
January 4, 2019 00:00
House price growth slumped to a near-six year low in December as Brexit uncertainty continued to weigh on the market.
Property values edged ahead by just 0.5% in the whole of 2018, the lowest annual rate of growth since February 2013, according to Nationwide Building Society.
The housing market ended the year on a low note, with prices falling by 0.7% during December, leaving the typical home costing £212,281.
But the headline figure continued to mask considerable regional variation, with property values rising by nearly 6% in Northern Ireland in 2018, while in the outer metropolitan they fell by 1.8%.
Hansen Lu, property economist at Capital Economics, said: "House price inflation maintained its downward trajectory in 2018, and has now cooled to a very slow pace."
Why is this happening?
Nationwide blamed the lacklustre performance on the ongoing uncertainty caused by Brexit, pointing out that it occurred against a backdrop of solid employment growth, stronger wage increases and continued low borrowing costs.
It said consumer confidence had weakened in December, while there had also been a slowdown in the number of properties coming on to the market.
Robert Gardner, Nationwide's chief economist, said: "The economic outlook is unusually uncertain.
"However, if the economy continues to grow at a modest pace, with the unemployment rate and borrowing costs remaining close to current levels, we would expect UK house prices to rise at a low single-digit pace in 2019."
Who does it affect?
The property market performed worst in London and the South East during the past year.
House prices fell by 0.8% in London in 2018, while they dropped by 1.4% in the outer metropolitan and were unchanged in the rest of the South East.
By contrast, they rose by 5.8% in Northern Ireland and by 4% in both the East Midlands and Wales. Yorkshire and Humberside also enjoyed a relatively strong performance with gains of 3.7%.
Growth in other regions was bunched around the 1% to 3% range.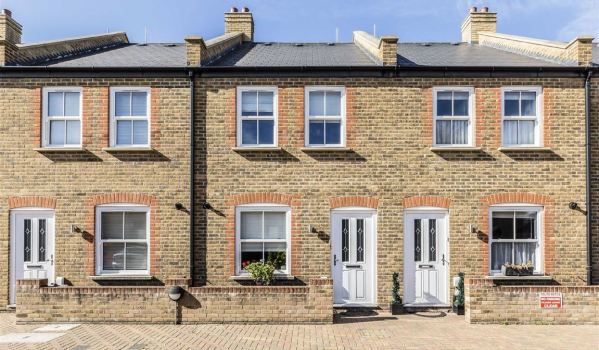 Above: A three-bedroom terraced house in Twickenham, London, that's been reduced in price by just over 15% to £549,950
What's the background?
Nationwide said a noticeable trend of 2018 was a further narrowing in the north-south price divide in England for the second consecutive year.
It said growth in the southern regions of London, the outer metropolitan, South East, East Anglia and the South West moderated throughout the year, while gains in northern regions remained broadly stable in the 3% to 4% range.
The trend was expected following several years of strong house price growth in southern regions, which had left affordability stretched in these areas.
But despite the narrowing in the north-south price divide, the typical cost of a home in the south is still nearly double that of one in the north at an average of £329,240 compared with £166,642.
At the same time, property values in Yorkshire and Humberside, the North West and the North remain close to their 2007 levels, while in London they are more than 50% higher.
Top 3 takeaways
You might also be interested in...